<![if !vml]>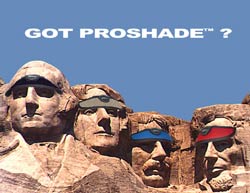 <![endif]>
A mock-up of PROSHADE's proposed promotion, which was rejected by Mount Rushmore officials.
Supplier's Mount Rushmore Promotion Nixed
A $4 million bid by PROSHADE (asi/79962) to use one of its products on Mount Rushmore National Monument has been declined by Mount Rushmore's superintendent. The plan, according to PROSHADE President Richard Lawrence, was to place 48 foot x 13 ˝ foot visors on each of the presidents atop Mount Rushmore in an effort to give national attention to its newest product. "I think they have their own rules and regulations, so I wouldn't call them unreasonable, but I think it's a missed opportunity," Lawrence says.
The idea was to do something that would not only make money for PROSHADE, according to Lawrence, but would inspire patriotism in Americans by reminding them of the monument – and since Mount Rushmore faces the sun for most of the day, a visor was a logical promotional tool. But even though this plan was foiled, Lawrence has plenty of other thoughts. "We've got ideas on the table," he says. "We'd like to do something with an organization that would benefit from this as much as we would benefit."